Today we moved for the first time to x.factory which is a hub that provides a prototyping workshop with production-level equipment and co-working space. We like the place and it's a good news as it will be our offices during all the week.
You can see below some different workshop (e.g. Metal, Wood, or 3D Printing). Pretty cool no ?

We start the day with an introduction about x.factory. Afterwards, we make a meeting with our team in order to create our week plan and our Todoo list 😉
We planned many things like finding an autism association in Shenzhen, developing our functional prototype, having a first transfer of a picture on our watch, agreeing on the final app design or thinking about new materials for the watch straps. It was an important task to do to be able to create a great coordination between us.
During the afternoon, Anthony went to Seeedstudio to see their offices and also their welding machines that we are going to use during the week.
The others stayed at x.factory and start to work in a very serious way. The proof below 🙂.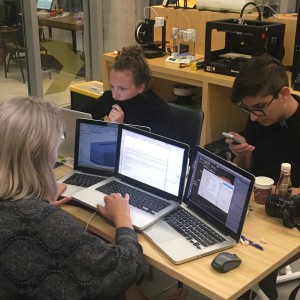 During this first day we discovered what means to be flexible and that nothing is going on perfectly as we expected. Indeed, we found that the FPC connector between the screen and the PCB wasn't in the right way. Consequently, we hope to find tomorrow a new FPC connector in huaqiangbei (area with a major electronics manufacturing hub and electronics marketplaces).
We are especially looking forward to visit this place tomorrow.
看到你明天