Hey people,
It's been a while again, we promised more regularity but you know how it is !
Anyway… We arrived in Hong-Kong ! After months speaking (and dreaming) about it, we're finally here and it's everything we dreamt of and more ! We landed on Tuesday afternoon, we headed to Hong-Kong University of Sciences and Technology (HKUST) and we took some time to visit and discover the campus. It's an amazing place, impressively big, green, and the view? Just look at this :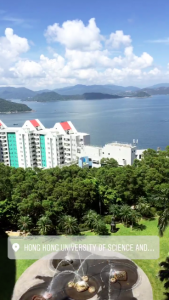 Breathtaking right?
On Wednesday morning, we had the occasion to meet the dean of the students of the University, Dr. Robert Wessling, who told us about his career and the reasons that led them from Stanford to Hong-Kong. His speech was followed by another one from Dr. Jan Engels a former exchange student from Germany who decided to stay in HKUST in order to complete his PhD and now is part of a start-up he co-funded active in the medical field, Sonikure,  now and we pitched our ideas. It was a good experience, in front of a small audience that made us realize how much it's important and hard to make a good peach. The feedbacks we got were very relevant and helped focus on what we need to improve for the next time we'll pitch during our stay in HK/Shenzhen.
In the afternoon we had the pleasure to visit KPMG offices in HK to participate to the BRINC Conference about the "Internet of Things". BRINC is an accelerator that offers advices and services to entrepreneurs in order to turn their ideas into prototype and then to profitIt was a really nice event where we had the opportunity to discuss with very inspiring people.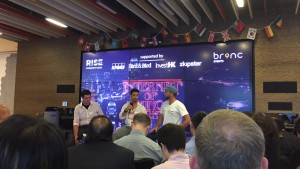 This city is an anthill, it's warm, humid and sometimes kind of oppressing. BUT it is very fascinating, cheerful and mysterious and we can't wait to discover more of it and meet some people ! To avoid posting a 2km long post, the next days will be described in a following post !
Stay tuned!