On Friday we got the opportunity to visit the Jockey Club Innovation Tower and more precisely, the exhibition that the the School of Design was holding in the building. Just like ECAL in Switzerland, this school forms the designers of tomorrow, and lucky for us, the students were exposing their work.
We're not gonna talk about the beautiful building designed by the award winning and passed architect Zaha Hadid for too long. However we noticed some aspects that worth mentioning. For example, it has been designed into two separate towers in order to maximize the natural light input into the building.
Inside the building, the exhibition was a great chance for us to see how designer from this part of the world conceive their art. And well we were not disappointed, some of the products exposed were very interesting like these transportable high quality speakers that once assembled together can be used as a small stage for street artists.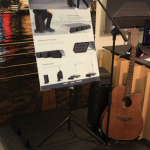 Another project was about making drugs for kids look a little bit less like drugs. This is why they designed the box and the pills in a way that kids wouldn't feel like they're under prescription but more like they're eating candies.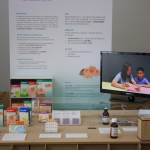 Before the tour ended our guide got us to a room where different material that a 3D printer could print were exposed. It was pretty amazing to see how much progress has been made since the appearance of the technology. There were also nice paintings and photos.
Thanks Bérénice for organizing this pleasant activity!
Loïc, Lucie, Rihab and Thomas