Regarding CHIC deliverables, our team is unfortunately slightly delayed. This holdup is due to one of our main challenges that disrupt all of us; the interdependence heating constraints that concerns all domains of our team. For instance, the feasibility of the heating transfers, the desirability for a daily usage and the viability regarding the material's cost.
We have decided to brainstorm ideas outside of the campus, at a Japanese restaurant. It was also the great opportunity to talk about external subjects and to enhance the togetherness.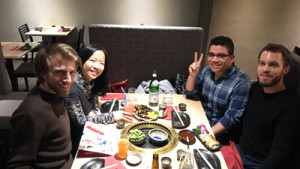 Despite the fact we have not yet found the right solution that covers all constraint that night, we have not only clarified it regarding each domain but have also come up with a lot of crazy and usual ideas.
Still, keep calm and carry on!