Let's talk software and firmware, or how to make the link between them!
As annonced during our last presentation, we chosed to use Bluetooth Low Energy or Bluetooth Smarth to enable the communication protocol between the application and the software. It's low energy consumption, acceptable range, and the fact that it is supported by Androïd and IOs make it the best solution we found.
This said, we were left to implement an effective communication flow to convey the information from the user to the application to the Hibachi. And here is the result!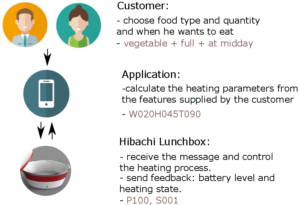 Tonight is our weekly meeting and there is still a lot of things to discuss. Go Hibachi!