The Kick-Off Day marked the official start of the adventure ! 💫 Time to get serious. 💪 In the past weeks, we have explored and imagined different directions: as you could see in our last post, we chose to focus on the idea of that connected agenda that could help kids with TSA get ready, plan their day, manage their daily tasks and thus release their stress.
So, concretely, what have we done on this first week ? 🤔
Lucie, from Micro-engineering, and Khalil, from Computer Science, handled the Requirements and Specifications for Software, Firmware and Electronics. They explored all the possibilities, as our team evaluates whether the app connected to our device would be a web-based, Android-based or an iOS app, what electronic components would be part of the connected device and how we are going to connect the app to our device. 👾
Manon created an Inspirational board ! It's a very useful tool because it allows us to gather and visualise all kinds of drawings, sketches, objets, inspirations, materials and so on. Many elements that we can link to our project and by inspired by (crazy right ? ). She also drew first sketches of our object: it's surprising to see and imagines all the different shapes our product could take ! 🔴🔷◼️▫️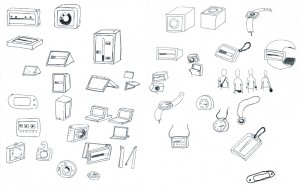 Hélène and Luca have created Personas (fictional individuals with characteristics that represent a target customer segment) to have a better idea of the customers segments we want to impact with our object (that's the goal, right ?). CustomerS ? Yes, we hope to offer a solution to kids, but we cannot forget the parents and the specialists, that are often in contact with the kid !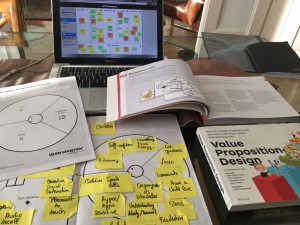 As you can see on the pictures, we have created several Business Model Canvas (a tool to have an idea of the economic settings of a start-up or a company) to help us have a common vision of what our business could (or should) look like to be viable. We didn't hesitate to imagine different solutions, sometimes even a bit ambitious. At this point of the process, we need to be as open minded as possible to be efficient. If you want to know more, you can have a look at those two books: Value Proposition Design and Business Model New Generation, by Alexander Osterwalder and Yves Pigneur. (We read them as bedtime stories 😴📘)
See you next week for the next chapter of our adventures ! Byyyyyye ! 👋🏼