After a week full of presentations and pitches, Saturday was the first day totally dedicated to sightseeing and discovery of the city. The aim was to walk through the more typical places of the city and to feel the way the people live here. Hong Kong is a very particular city; some places really look occidental whereas some others are still more traditional.
We were first divided into small teams and had some places we were advised to go to. Every team had a different starting place which was aimed at feeling the spirit of the city.
Afterwards we went to Sham Shui Po, which is a huge market of electronic devices. There, it is possible to find almost everything: accessories for smartphones, lamps, speakers, magnets etc. The prices are also very low compared to what we are used to in Switzerland. But there are also many other shops on the streets in this area, here is how the streets look like.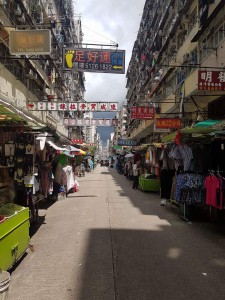 Another very interesting place was the so called "Ladies market". It contains a huge quantity of fake (and thus cheap) objects. Just as an example, a smart watch that looks exactly like the one from Apple was sold for only 150 HKD, which means approximatively 20 CHF. One interesting thing to do in this market was to try to negotiate the prices. Sometimes it didn't work at all but in some cases we could have a price more than 3 times cheaper.
We also wanted to eat some traditional Chinese food. Therefore we stopped in a small typical restaurant where only Chinese were eating. The fact that the menu was only in Chinese and the waitress didn't speak English guaranteed the fact that we were not in a touristic place.
We then had the opportunity to take the ferry to reach Central on the Hong Kong Island, we had there a very nice view of both coasts with all the big buildings standing next to the water.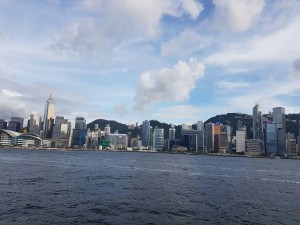 The meeting point for all the groups was set at a secret beach whose name was only written in Chinese. We all arrived at the right place and some of us even decided to refresh themselves by swimming a bit in the sea.
It was then time to spend the last night in Hong Kong. Some of us decided to start it at the 118th of a building, while some others went to Victoria's Peak to have a nice view of the city (even if it was raining cats and dogs). Here is by the way how it looks by night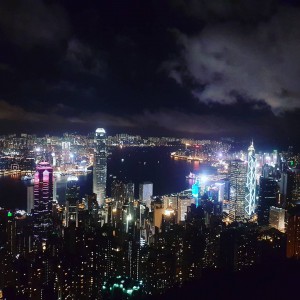 We then all met close to central to finish the night.
On Sunday, we moved to China!
Since Saturday evening was our last night in Hong-Kong we were all a little bit tired. We also really appreciated to sleep a bit more on Sunday morning.
After a journey by bus and then by metro we arrived at the border. Here a first passport check to exit Hong-Kong was done. By the way, did you know that you could have a fine if you export too much powdered milk?
Then we crossed the river to go to China. The differences could directly be felt; almost no more translation in English, foreigners instead of visitors, less trash cans, etc.
So finally after 3h30 of travel we arrived at the Marco Polo Hotel of Shenzhen. I think we are all happy to have a nice room with a nice bed and a swimming pool!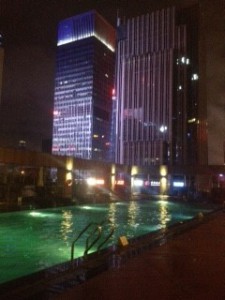 Most of us were starving and went to the mall next door to eat something and the others had a nap or a head in the swimming pool. The evening was quiet since it was a tiresome day…
So stay tuned for the next days, some hard work is waiting for us and we will have many new things about the prototype to show!
Cheers from Shenzhen 🙂
Valérie & Adrien