It's been almost a week since we left – time goes by and we have plenty to tell you about our experience in Hong Kong.
After this very busy day (post here), we went to the HKSTP (Hong Kong Science Technology Park) to visit the site. It's a place designed to locate in close physical proximity university, government and private research bodies involved in particular fields like Biomedical Technology for instance. This one brings together companies of all sizes that benefit from synergies thanks to the proximity of these players gathered in the same place.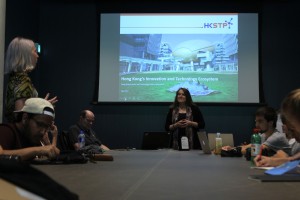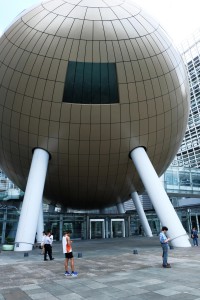 During this visit, a surprise pitching was organized and Manon perfectly took up the challenge that was not obvious. Presenting one's idea in 60 sec can be more complicated than you think, believe me;).
There were more unexpected events as Manon had the right to a second round during our meeting with Blake Larson, Managing Director of International at Lalamove which is an on-demand logistics company in Asia that matches users and drivers to provide same day delivery and courier services. It is a real plus to be able to make these pitches in order to receive a maximum of feedback always constructive but also sometimes hard. Indeed, we ended on Thursday with a visit to the Brinc locals and a last Pitch (from Manon – never two without three 😉 ) with investors and those who deal with the Brinc accelerator.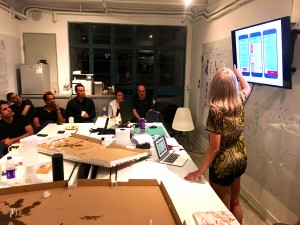 The Q&A session was not at all relaxing. For the first time, we faced people who thought above business and viability of the project and it was not at rest to defend our ideas. The main challenge was to justify our choice to create a connected watch from scratch when it would have been more accurate to use what already existed in order to be present with our product more quickly on the market. This was a key and enriching moment because we had a glimpse of what to expect when we present a start-up to investors.
On Friday we were in the MakerHive offices which is a coworking space for designers and makers. This time it was Khalil and Hélène's turn to pitch. In order to prepare, we were in a café to review our pitch and add elements. After the pitch, we had the right to a new Q&A session with a new batch of issues highlighting, for example, that we may need to further analyze the potential market of China. We realized that these pitch sessions bring us a lot because we have justified our choices better in our answers compared to the last ones. Of course, we can improve even more with each question raised that highlights aspects of our project that we had not realized until today.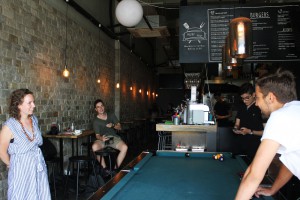 If there is a lesson to be learned from this week of pitching, it is that we must make the most of it because it is by presenting and discussing with others that we can improve and discover other horizons for our project.
We leave Hong Kong full of memories, lessons, meetings and advices and we are now eager to advance our project in Shenzhen. Follow us regularly this week because a lot of things will happen See you soon !