On Saturday we had the chance to participate to a scavenger hunt in Hong-Kong in order to discover further the city and its culture. Our team was composed by members from different projects – Valérie (Troback), Dimitri ( Ilanga) and Luca (Todoo).
We started by going to Mong Kok which is a square of Hong-kong situated in North-West of the city. Our first impression was about the architecture of the place. It was far different from the Hong-Kong island with their more typical buildings and less futuristic. And one of the most interesting point was the contrast between the traditional market and the official store that we can find in Europe.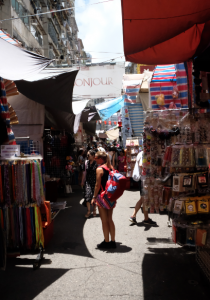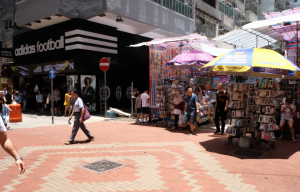 From there, we walked through the Ladies market which is the most touristic market in HK where you can find every gadget that you want. The aim was to negotiate the prices and it was very fun to do it. The first try was a total fail but we were luckier on the second round. We bought a super cute princess manicure set.  140 $HK was the starting price and we succeed to lower it to 40$HK, so proud of us. 🙂
After this effort, it was time to lunch, so hungry ! By going on the next spot on our planning (Sham Shui Po) we found a typical chinese restaurant. The challenge was to translate the menu as it was only in chinese character. As we were lazy, we used the random option. We point one meal and fortunately it was miam miam miam delicious !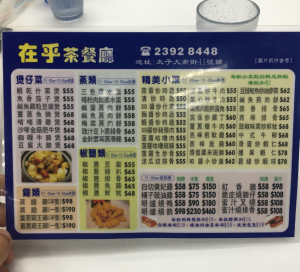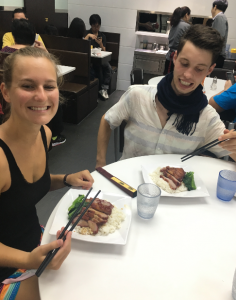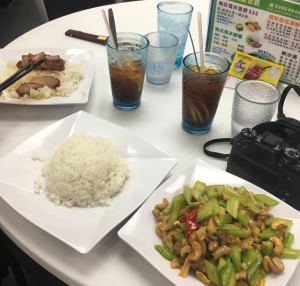 We took the opportunity of this moment to ask to the waiter some chinese expression but it was more complicated than we thought.  Even if we didn't understand each other, the waiter was so kind with us. He asked to a client lunching behind us if she could help us as she was speaking a little bit English.  After 20 minutes of research by her (so friendly), she gave us a wonderful chinese expression in pin yin and chinese characters: Chengdu and Chongqing. As you can imagine (we hope), it was in fact two cities of China. Even if we tried further to explain her our request, we stayed with this, never mind.
After a short visit to the Sham shui po markets which are mostly dedicated to electronic equipment, we took the Star ferry to reach the Hong-Kong island. And big surprise, on our way we catch up Spiderman who was visiting also this wonderful city, lucky no ? 😉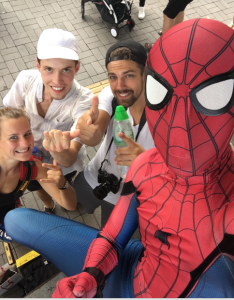 So happy that we took the ferry as we had a wonderful view of every huge HK buildings, each of them more impressive than others.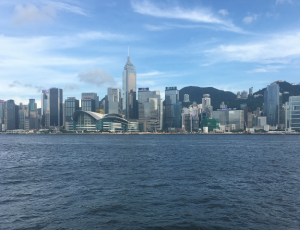 To finish our scavenger hunt, we showed the secret destination to our taxi driver (yes, the name of the place was in chinese) and we arrived to this beautiful beach on the other side of the island. Of course, we decided to swim a little (we deserved it no ?) as it was so cool ! 🙂