Dimitri, Luca, Nicolas, Pierre and I had the opportunity to have a tour of the HKDI (Hong Kong Design Institute) !
The building alone is worth a visit: we were welcomed by a huge escalator that allowed us to enter the school, designed by french architects Coldefy & Associates. We were explained that the four "towers" are each dedicated to one department, and a top floor (representing a piece of paper), where the towers connect together and also give space for a huge library.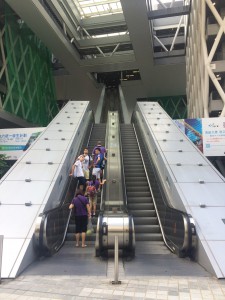 The rules of the library are special but refreshing: in one part, silence is required (just like in every other library), and in the other, people are encouraged to speak out loud, in order to create a space for sharing and discussing ! Oh, and the view is amazing too…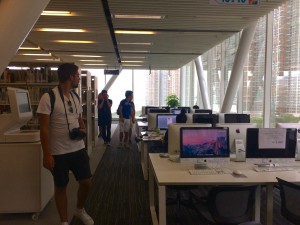 Then they took us to their material library: us product designers were super excited to see all those crazy materials on display, and I think the others enjoyed it quite a lot too ! Unlike in our school, they have more technical materials and samples from specific suppliers, which is pretty cool too !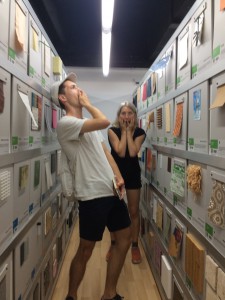 We then moved to the rooftop, situated on the "piece of paper". Again, we were amazed by the view from there ! Surrounded by huge buildings, we felt very small… It looks like a pretty cool place to have a break, but with that heat we were happy to run back to the A/C !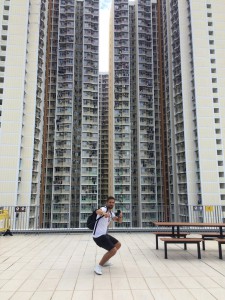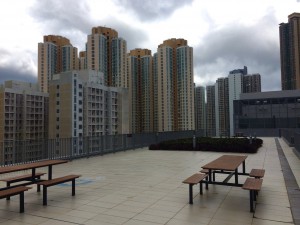 They took us to the workshops and classroom to have a glimpse of what being a student looks like here. We were quite relieved to see that they are as messy – or more ! – than us in Switzerland !
It was a really nice opportunity to have people show us around, it's always funny to find differences and similarities in our studies all around the world. All in all, HKDI gave us the same impression as the city of Hong Kong itself: everything back home is so tiny compared to here !