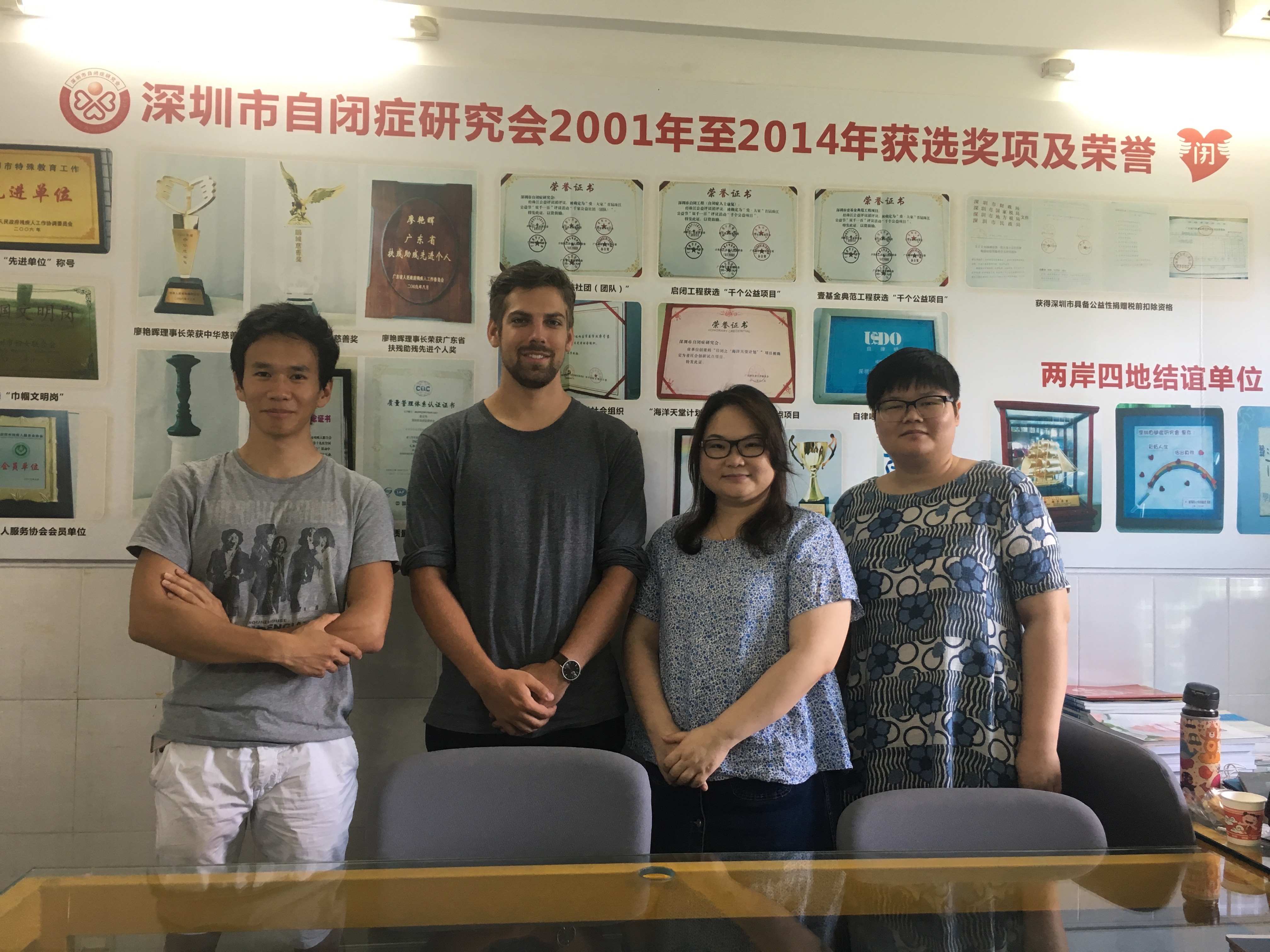 Yesterday, we met the Shenzhen Autism Association (SAS). The challenge we had (we learned it by phone) was communicating with the people of this association as nobody spoke English. So, a big shout out to Nicolas from the Livelo team who accepted to go with our Luca to be our official Todoo translator🙂. Nicolas did a really good job and we certainly couldn't do it without him.
When we arrived, we discovered a 6-floor building mostly dedicated to autistic children. We discussed during one and a half hour and learned a lot of things. Our wishes were to know more about autism awareness in China and how they proceed to help autistic children.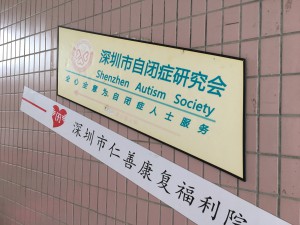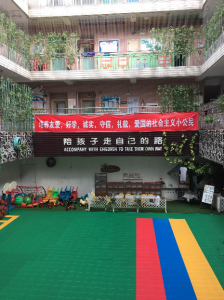 So, let's recount a little more what we heard. First of all, they told us that they are the only association making research about autism in Shenzhen. There are other ones (public and private) that help autistic children but SAS is the biggest one. Moreover, it is the only one that helps children after 14 yo (between 0-38 yo actually). It was our first surprise. China seems to be making efforts to help the autistic community but only for children, while we know from our research in Switzerland that autistic people need almost lifelong assistance. Indeed, the autistic Chinese receive this assistance in so-called "rehabilitation centres" and they seem to be services to ensure they get the required elements to get autonomous instead of providing them with long-term assistance. However, it's also good news to see that something is being done to support this community. To be honest, we thought that we would not find any kind of place dedicated to autism in China.
SAS was established in July 2001 by 12 families with autistic children despite the lack of professional service in autism at the time in Shenzhen. At present, they have the help of the Chinese government that, for instance, gave them for free a ground to build their centre and give the needed funds to ensure that some older autistic children may learn in an ordinary school. The condition that ordinary schools gave to the association to accept autistic children was: If we accept autistic children, we will have to do nothing more from our side. This model (asking funds from the government or other institutions to allow autistic children to go to school) was developed by SAS and are now expanded around China.
One thing that stroke us is that resilience from the ordinary school. Compared to Switzerland where they do everything to ensure them an ordinary life and give them the maximum they can to integrate them in the society, in China we feel that making money out of helping autistic children is more important than actually helping them. Another point that confirms this feeling is the creation of different private autistic centres that cost up to 2'000 CHF/month for a child which is definitely too expensive for most of the people in China. We had this feeling from an SAS member's explanations that some private institutes have the mission to make money more than helping with to the best of their capacity this community but it would be really interesting to make some further research about the system in place.
Then we talked more about the features of our watch and they gave us some good feedback. The most relevant was the suggestion to implement a GPS in our watch. When it sounded not very useful during our interview in Switzerland, it makes sense to introduce it in China as the cities are gigantic with millions of people. Actually, they explained to us that they lost one child a few days ago and it took a long time to find him. So, it could be very helpful for them.
Then, we wanted to test our mobile app but it was impossible to make a usable test as they didn't speak English. However, they will be delighted to make future tests if we decide to add the Chinese language on our app. It could be even possible to do it remotely even if it's something that we have to think more about in order to get relevant feedbacks and good quality usability tests.
At the end, we made a small visit to the different children classes and we kept a wonderful memory of this moment. The children were all happy to meet us and gave us a very warm welcome.
We left this centre with a lot of new elements and we enjoyed it to be more aware about autism in China. It gave us some new directions to explore and how we could help the Chinese autistic children and give them the chance to live an ordinary childhood. This meeting allowed us to keep in touch with the most important autism association in Shenzhen and we hope to stay in contact with them for the future. 🙂