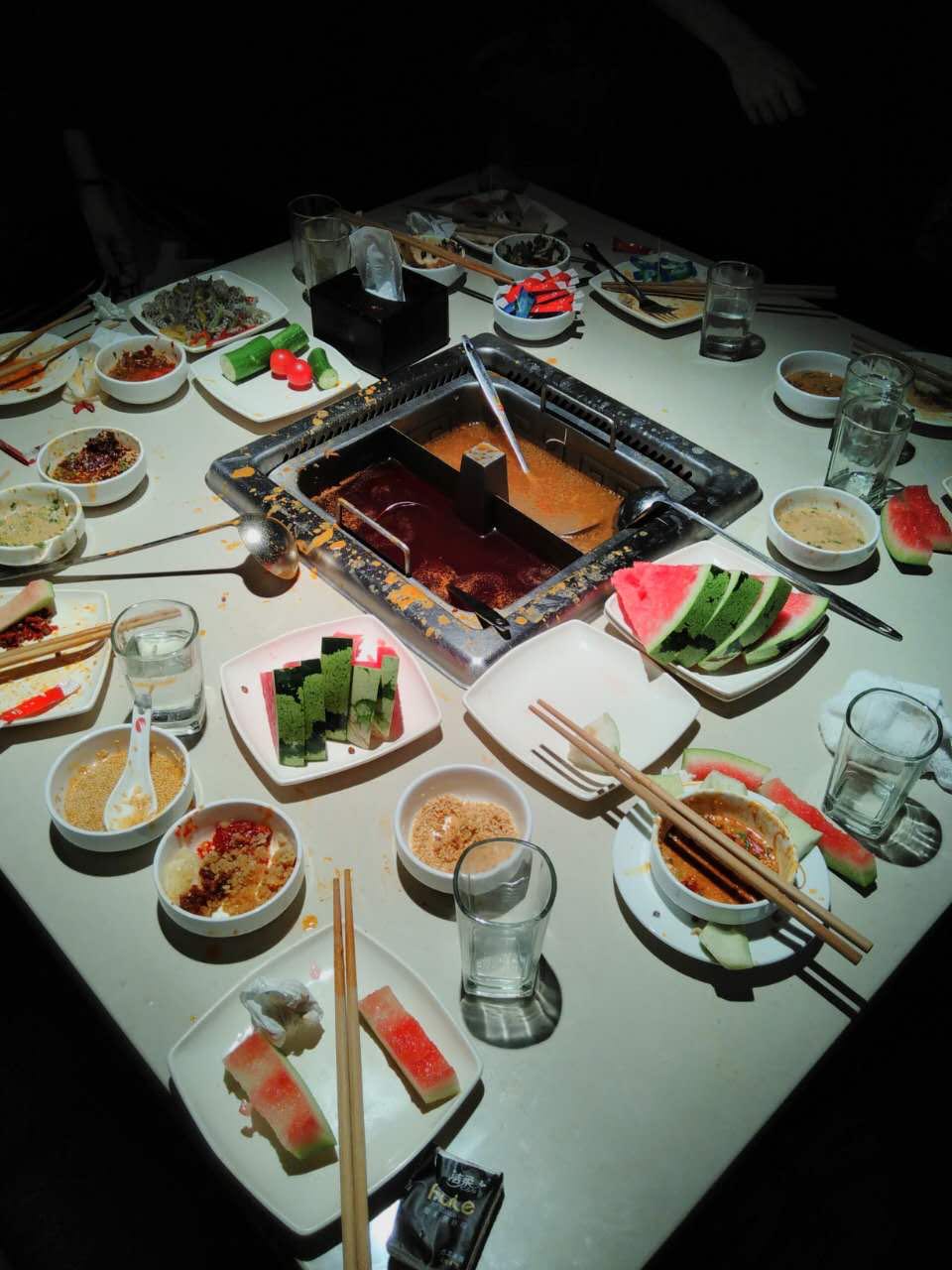 Hong Kong and Shenzhen two cities so close but still so different
In the past owned by the British, Hong Kong went back to China in 1997. However, the city maintained a high degree of autonomy and is now a special administrative region (SAR) of the People's Republic of China. As a result this part of China acts different than the rest of the country.
Shenzhen on the other hand has always been a part of the People's Republic of China. Once a small fisher town it is now an important city for foreign investments and one of the fastest growing city in the world.
To start the subject let's first define sharing economy: Sharing economy is"an economic system in which assets or services are shared between private individuals, either free or for a fee, typically by means of the Internet" (Google definition).
Looking at the two cities one of the most obvious examples are the transport of people by taxi. In Hong Kong people use regular taxis or Uber. In Shenzhen however, Uber is not an option. They have the service called Didi Kuadi (merge of Didi Dache and Kuaidi Dache) which is as well a mobile platform taxi-calling application.
The next element we would like to look at is bike sharing. In Hong Kong we have companies like Gobee bike–bikes which you can unlock with a QR code and drop anywhere in the city–and HobaBike–bikes with a designed parking space. However, walking through the city of Hong Kong, we could not find a lot of this bikes.
In Shenzhen the situation is a lot different. The two companies Ofo and Mobike are present almost on each corner of the city. It seems that these bikes represent a main vehicle for the citizens of Shenzhen. As pedestrian it is therefore recommendable to have a watchful eye as this bikes are omnipresent on streets as well as sidewalks.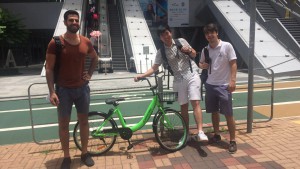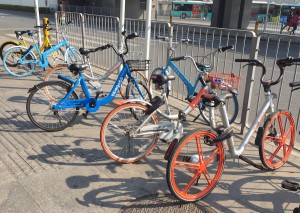 Makerspaces also fit in the category of sharing economy. Makerspaces are public workspaces. The root concept is that makers get access to machines and working space for a membership fee, otherwise they could afford neither of them. Here they can have a desk in a co-working space and quickly complete and test prototypes. In reality it is much more though: a center for education, exchange of skills, social network and sometimes collaborations. By default, these spaces bring together people from different backgrounds, unlike big companies with specialized departments. Here individuals can realize their projects in a helpful and nurturing environment. Not all makerspaces are the same.
In Shenzhen we have Seeedstudio, which is closely connected to Seeed Factory, can offer a much wider range of machines and tools, while X.Factory (also in Shenzhen), which is still only semi-open, currently seems to focus more on the community building. Moreover, there is HAX (Shenzhen), which is a hardware accelerator focusing more on the profit. Of course they take in startups and not ideas, so it does not fit into the category of the sharing economy.
In general, Shenzhen is a much easier place for sharing, since it's much more spacious. There can be a room for just woodworking machines, another one for metalwork, etc. In Hong Kong, however, every square meter is precious, so they really rationalize and keep only the most vital things and use spaces for multiple purposes: meetings, presentation and coworking all in one. Also there are much fewer maker/coworking spaces, while Shenzhen has more than a hundred.
Makerbay in Hong Kong is special, because most of the machines are owned by the founder, and most of the projects are aligned with the values of the space: social and environmental impact. One would think that this model is not financially sustainable, and they have to make sacrifices, but it is in positive balance now for more than a year.
The last element we could identify for a comparison of the two cities is the eating behavior. In China there is no typical order in which the food is served. A lot of different dishes are served at the same time and the bigger the variety of food the the more festive is the event. The balance of Yin and Yang is very important, which is demonstrated by the choice of hot and cold food and of course the round eating table (which stands for harmony).
The round eating table is also really handy for the food sharing as each individual has an easy access to all dishes.
In Shenzhen the food sharing could be observed all over the city while eating in different restaurants. In Hong Kong this was not always the case. In some occasions (especially typical local restaurants) the eating culture was as described above. However, most of the time the eating habits resembled more the Western than the Chinese culture. It can be argued though that this discovery is due to our choice of restaurant and not at all representative for the whole city.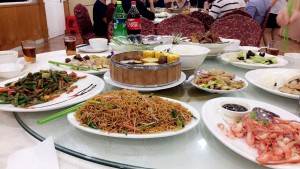 In the next paragraph we will talk about other sharing culture present in each of the cities. For the following observations no comparison could be made as the elements are in no way connected.
Hong Kong:
 Rent a Suitcase: Hong Kong is one of the most populated cities in the world therefore, space is money. As a result Rent a        Suitcase offers clients to rent luxury suitcases to resolve the problem of lacking storage space.
 Lux TNT: In a city like Hong Kong appearance, fashion and image are important. In case the personal budget is not sufficient to purchase expensive luxury handbags or clothes, LuxTNT offers a solution. The site allows to rent luxury item in exchange of a daily fee.
GoGoVan: This company is an app-based platform which aims to to redefine the daily logistics experience by offering a convenient and efficient service.
Shenzhen:
Shared public power banks: while walking through the mall, we discovered huge public power banks which can be used by every individual in need.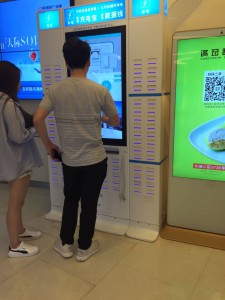 I hope we could offer you a better insight into sharing economy for Hong Kong and Shenzhen.
Cheers,
Julia and Anja