Goodbye China
August 1, 2017
---
Yesterday was our last day were we worked on our prototype. After a rocky start and some further issues along the way we were proud to present an almost functioning… [...]
Yesterday was our last day were we worked on our prototype. After a rocky start and some further issues along the way we were proud to present an almost functioning Peggy yesterday at the final presentations.
The coin inserted actually slid down the slide into the right slot and could therefore been withdrawn. However, due to the wiring the coin got stock at the exit of the device. Also the optic sensors had an issue as they were sending constant signals to the application. All this issues will be solved when coming back to Switzerland.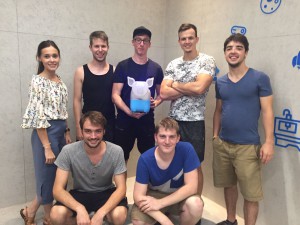 Bruno, Florian and I are flying back this evening, our mechanical engineers Yann and Nico are flying tomorrow. Michael and Gion well stay another 2 weeks traveling through China before flying back to Switzerland.
Well, I guess it is time to say goodbye and of course a big thank you too all the people who made this experience possible.
Cheers,
Team Fribourg
Written by Anja Lazzeri.