Hello CHIC community
Here is what happened during this adventurous second week !
We continue to make our appointments at epfl and we started by saying hi to everyone, very important since it was the first point on the agenda Luca provided. That was cool !
We met our three mentors. We had a chat with them and understood better how they will fit in the team. They will be a reference for anything that concernes the team organisation and a starting point when ever we feel in trouble in the group dynamics.
We then made a round of ideas from each team. Everyone shared what they explored during the past week and what they have found. We took some time to discuss the different proposition. Everyone found a strong interest in the refugee camp topic. It will need more exploration and we will be on it !
So Estelle's timeline of homeworks…
It can't be all fun. So Estelle presented the timeline of achievements to do for the coming meetings before the MS1.
We have a very nice presentation for the coming tasks. We will look for our costumers (associations, etc.) and try to determine a problem we could solve from them.
Last but not least, Estelle invited us saturday night to share a meal together (except Chloe who was in London 😢).
The level was very high, she made food with LOVE and it was delicious.
There was food for each tastes, we thank her again ! It was really nice to share a moment together, we get to know each other step by step…
We meet Simone's and Estelle's boyfriend/girlfriend and it seems that everyone is on the same feeling !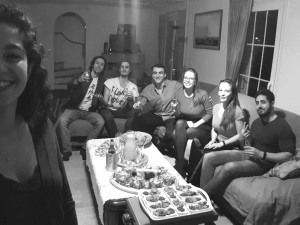 xoxo
Marjane