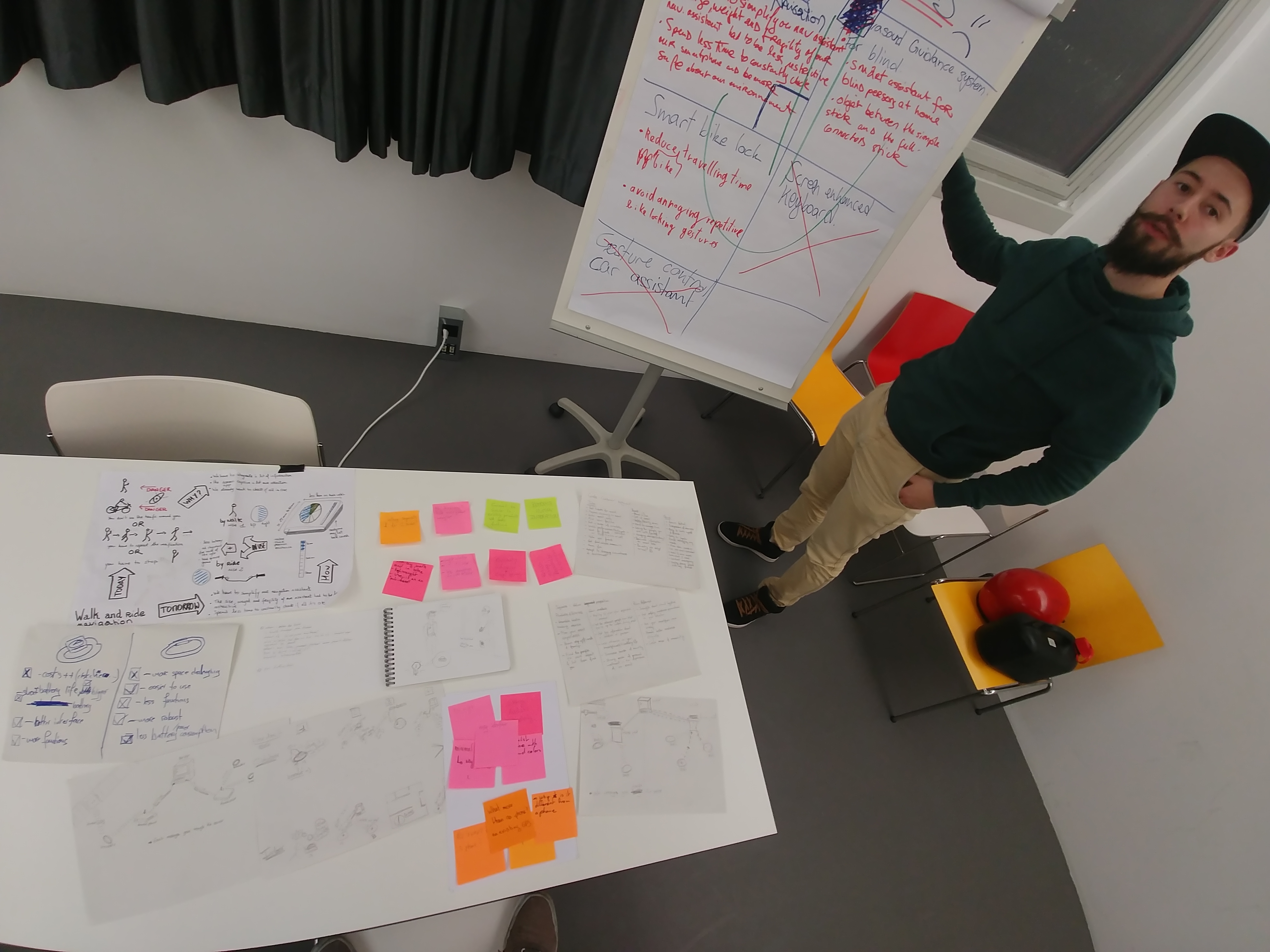 Last time we posted a progress post, we had defined a "world" we wanted to work in and had a blank page in front of us. The engineers were working hard on listing the possible technologies that could be interesting to develop for CHIC, I had started to look into our potential customer segments and developing our value proposition canvas while Romain and Joanne were mapping out personas, journey maps and helping us out our tasks.
A lot has changed since then. So the question is… what's happened in the past two months?
–        Explore ideas
At the end of ideation weekend, we had defined that we wanted to explore the world of mobility and location-based services and experiences. In order to define a relevant "Value Map", we needed to focus more on the customer segments present in this ecosystem and really understand their habits.
Thus, we brainstormed and came up with these following ideas from which to develop a product:
A mobility assistance device for individuals with disabilities using echolocation technology
Simplest GPS device aimed at pedestrians who don't like taking out their smartphones every 2 minutes in a busy city
A device allowing you to "Find your Friends" in large spaces
–        Trial & Error
From there, it was time to set some hypothesis and try to validate them and thus define our direction. Our aim was to see which idea of ours gathered the most traction and interest.
At this point, we didn't know much of what we were doing but we all knew that we wanted to dedicate our efforts into an exciting device we all could relate to. However, it was also at this point that plenty of issues started to arise as some tended to focus more on the technical feasibility or other details such as price while other focused more on understanding the potential customer.
By making our friends and family go through these trials, we learned a lot about the way people think when confronted with a new way of doing things. Thanks to this, we were able to have very eye-opening conversations about what we were doing, how we wanted to do it as well as the format of the entire CHIC experience.
Indeed, we understood that the overall product development efficiency and effectiveness is going to depend on various processes being well executed. Our actions or tasks which are included in these processes are influenced by the ethical and moral elements that have been selected by each one of us, whether this selection was conscious or not. With the help of our supervisors, we were able to overcome this difficulty. This realization really pushed us to have very honest conversations as a team and start progressing.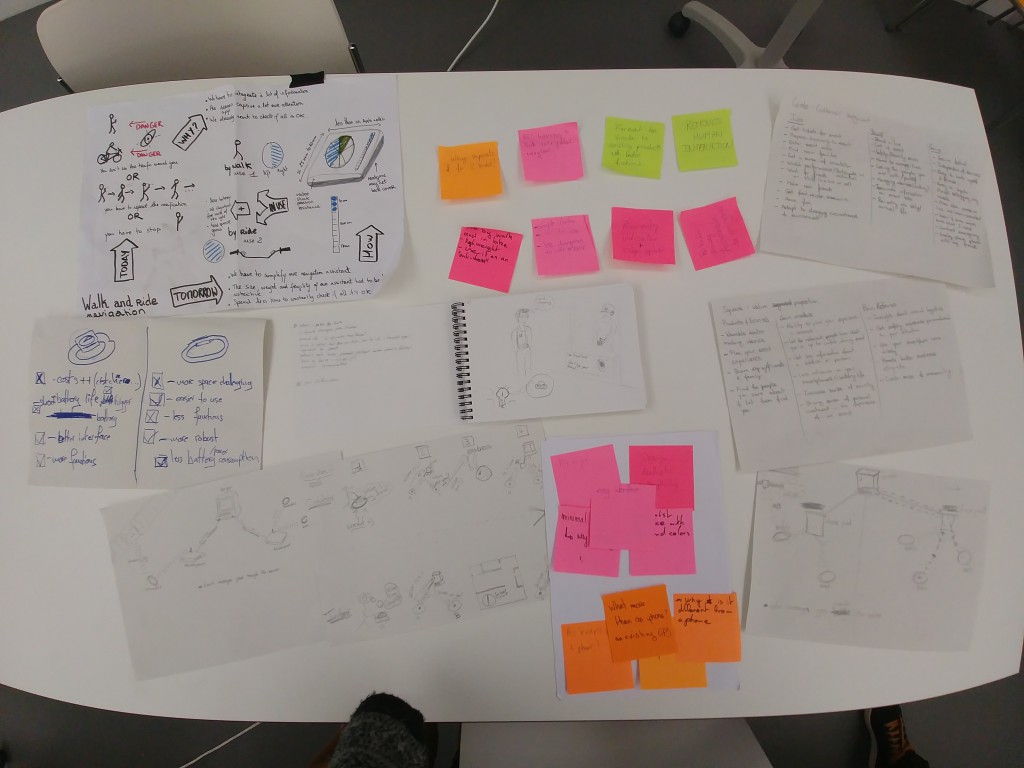 –        Sharing with others and defining the main idea
For this phase of the problem exploration, we applied our learnings from the ideation workshop and we all decided to reach out to people in our entourage and start gathering feedback on the three solutions above.
It was imperative for us to do it quickly and efficiently but especially make sure the knowledge was shared between us all. This rapid way of testing our hypothesis allowed us to see which functionalities or features were "very relevant" and which ones were "nice to have".
By sharing our feedback honestly and getting together to gather all the information on a weekly basis, the idea of a device that allows you to "locate your friends" at events emerged.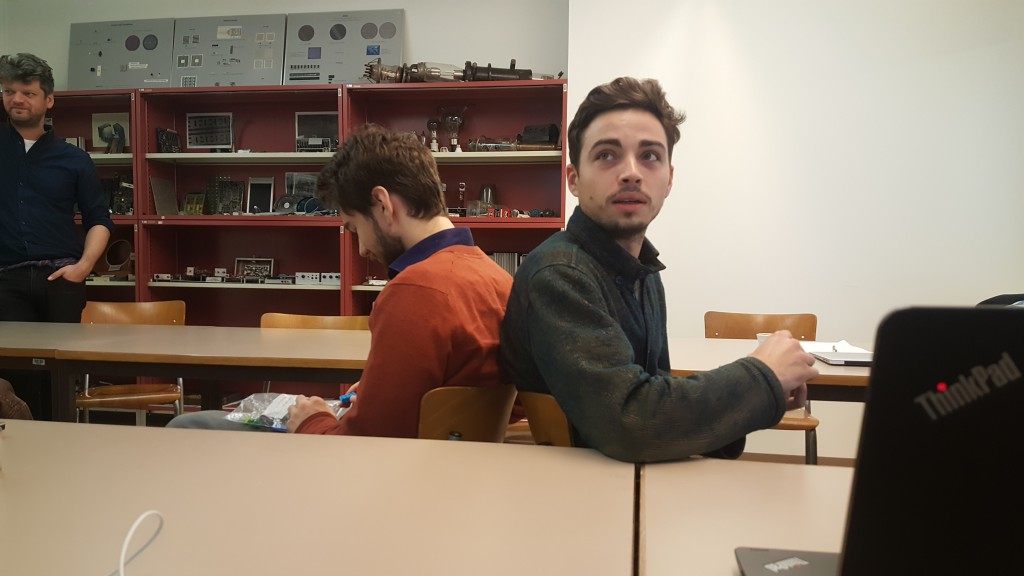 Indeed, most individuals we had talked to had experienced issues with mobility or locating themselves, friends and facilities at events. We learnt that there are indisputably worse places to lose your friends than in a large crowd of like-minded people, but for most event participants, sticking with their crew of friends is a very important factor when experiencing arts & music. Additionally, depending on the event, with minimal cell phone service and plenty of ground to cover getting lost is an unfortunate norm of an event experience, but it doesn't have to be.
This is the main reason why we decided to focus on mobility and providing location-based experience at events for the first Milestone in November.
–        MS1: Problem exploration
This brings us to MS1. It was quite a challenge to transform all the information we had into content that's useful for our MS1 team presentation. It was also an intense period for all of us in terms of workload at the university or our respective jobs.
The most challenging aspect of this milestone was to present key learnings from interviews in a structured way when most of our interviews were conducted in an informal setting. The second most challenging aspect was to communicate our ambitions as simply as possible. Indeed, things had been changing at such a fast-pace, we weren't exactly sure what it was that we were doing!
This is why while preparing for the presentation, making sure we were using a common language became even more important. Hence, the week before the presentation, we met several times and put together all the content we had created or collected in a way that satisfied everyone in the team.
–        Feedback from MS1
The main feedback we got from our supervisors, Marc Laperouza & Raphael was to sort through all the information and really find our focus. It seemed that when we pitched our product idea, our overall performance was a little too academic with too much going on. With their feedback, they pushed us to sort through all the information and find out how we can differentiate ourselves from existing solutions.
However, they also encouraged us to keep working hard and practice our pitch presentation several times before a big presentation!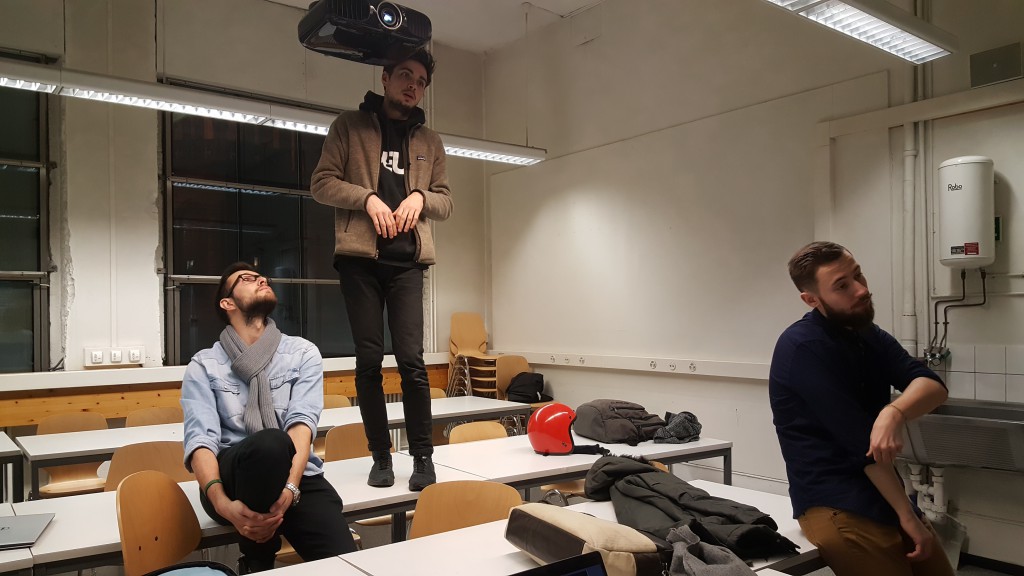 All in all, to make it simple here are the 5 key take-aways from our MS1 presentation:
Find your unique selling point
Focus on 3 main personas
Make sure you have the technical capabilities to see your plans through
Make your design as eco-friendly as possible
Give your customers the ability to customize the product to a certain extent
–        Report writing & Team Progress
Based on the feedback & resources available on the CHIC platform, we went back to the whiteboard with everything we had learned until now.
By brainstorming some more, we slightly pivoted our focus from a device that can "Find your Friends" at events to creating a device that can provide "location intelligence about audience & participants" for music-festival organizers. However and most importantly, we wanted the end-user of the product to be the event or festival participant.
This is when we asked ourselves… Do we start all over again with a fresh idea? Or… Do we find a way to reconcile our valuable learnings before and after our pivot to create a meaningful product that enhances an individual's festival experience?
We actually voted on this and decided to go with the second choice. That's how Team Ikare decided to officially start creating technology for festivals.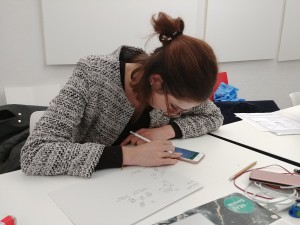 With a very short timeframe meet our deadlines, we got to work trying to understand the events management & festival industry, the rate at which the industry is adopting new technologies and more. From there, we mapped out our future potential customers and focused on understanding what were their jobs, pains & gains when it came to organizing an event for thousands of participants. Additionally, we asked ourselves, how do participants value certain elements or factors during an event or festival?
To reach our objectives, we realized that we needed to work more efficiently and conduct even more interviews. And this time around, it needed to be done in a well-structured way from the start.
At this point of the adventure, which was right before Christmas, it was a real challenge to continue meeting regularly but we managed to keep everyone in the loop whether it was through Skype, Slack or even short recap sessions around a quick coffee.
Once we handed-in our MS1 report, we decided to take a short break in order to be able to focus on our respective exams and end-of-semester projects. This break allowed us to take a step back and try to understand the "bigger picture" at an individual level, but it also allowed us to understand each other better going forward.
–        What's next?
Now that we are all back and focused on MS2 with an interesting idea/product to develop, we are going to start by reviewing the way we create our blog posts so that we can share our adventure with you more regularly and in a more meaningful way.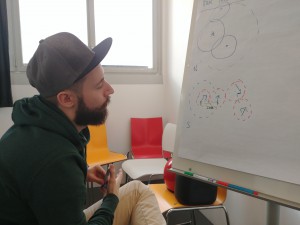 The next thing on our checklist is to reach out to festival organizers & participants and start with the solution interviews. We still have some hypothesis to validate as well as update our test methodology but what we already know has allowed both the engineers and the designers to explore solutions and start prototyping.
That's it for now! To recap, we're now getting ready for MS2 in mid-February and conducting our solution interviews.
Stay tuned for more updates shortly!
Yours truly,
Team Ikare