Border ecologies – Innovation Parks
August 2, 2018
---
First of all what is an innovation park ? According to the EPFL an Innovation Park is devoted to housing start-ups, SMEs, research teams and innovation cells from major companies… [...]
First of all what is an innovation park ?
According to the EPFL an Innovation Park is devoted to housing start-ups, SMEs, research teams and innovation cells from major companies that operate in fields as diverse as information technology, computing, health and nutrition, engineering, transport, telecommunications or materials. The whole process occur in an inspiring environment, with access to cutting-edge research, world-class faculty and students and a large network of serial entrepreneurs.
Hong Kong and Shenzhen are part of the Guangdong-Hong Kong-Macau Greater Bay Area. They are an important economic zone. Guangdong is one of the richest province of China and leader in exportation. This is partly due to the way that Shenzhen grew up a lot lately. Which ultimately gave us his nickname of "electronic capital". This is also why a lot of start-ups show interest in Shenzhen, it is very easy there to cut down manufacturing as well as research costs. Although we can find makerspaces easily like MakerBay, SEGfablab, Litchee Lab, x.Factory (where we worked), etc. China has only showed interest in innovation parks very recently.
Hong Kong is in advance thanks to their universities like the Hong Kong University of Science and Technology that allowed an enterprise like DJI to grow and become the leader in the world in aerial photography. Hong Kong also owns the Hong Kong Science Park that take advantages of the Greater Bay Area to ensure the fast development of new talents and enterprises by creating innovation.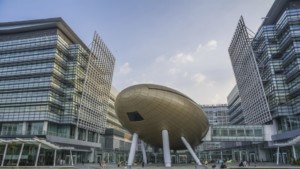 Today, when we search for Innovation Park in Shenzhen or in Hong Kong, there is one name that comes back everytime : Hong Kong-Shenzhen Innovation and Technology Park (HKSTP). This enormous park of 100 hectares wich is currently being buily will be located at Lok Ma Chau Loop, at the border of Shenzhen and Hong Kong. This allows innovators to have direct access to the supply chain and to China resources. Making innovation faster. Hong Kong shows his wish to invest into this innovation park by creating a new line for an underground train from Lok Ma Chau Loop to the center of Hong Kong. The underground train would make the time of travel between the two points down to 14 minutes. Of course, there are a lot of issues to solve regarding visas. Creating a new mixed area like Lok Ma Chau that will attract hundreds of thousands of people every day will create a need for new automated and transparent authentication systems. Crossing the border is already a pain nowadays, so China and Hong-Kong will have to work together to find a solution.
Written by Gabriel Da Silva Marques.