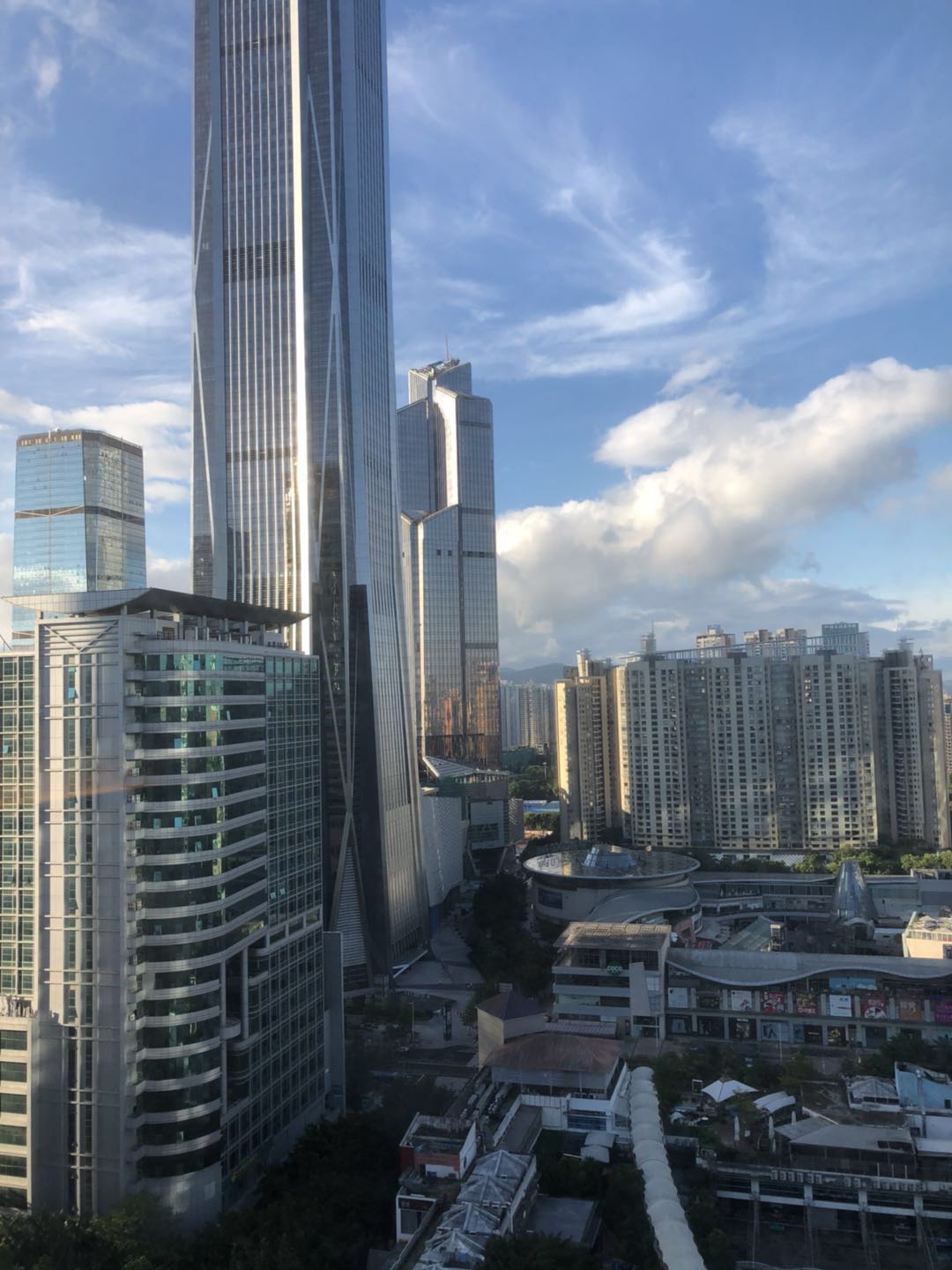 Hi everyone,
Here we are again, for another "Border ecologies" blog post. The text that is following will describe some of the differences Amandine Gini & Simone Sanso spotted during this journey, beginning in Shenzhen and ending in Hong Kong, around public spaces.
To understand better how different those two cities are from our well-known Swiss environment, the blog post is structured by themes.
Ready to discover more about Chinese public spaces?
Let us start with the different symbols and signals we saw in China.
First of all, one main difference between Hong Kong and the rest of China is that cars drive on the left side of the street. In fact, until 1998, Hong Kong was a british colony, before becoming part of China, but still keeping their regulations. This is the reason why Hong Kong is also known as "one country, two systems".
In Shenzhen, another point that stroke us was how organized the subway stations were organized. To ensure that everyone taking the subway would respect the same rule, many visual symbols are used to teach how to behave. For example, in front of every door entrance of the subways, there are yellow feet showing where the people should queue, to leave some space to the persons inside the subway to leave.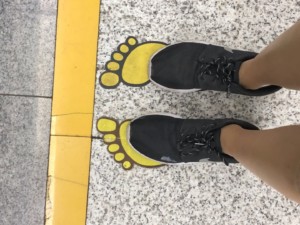 A common behaviour that we noticed in both Shenzhen and Hong Kong was the utilization of smartphones. Various situations could be surprising, when different people could interact together in a shared public space rather than staring at their screens.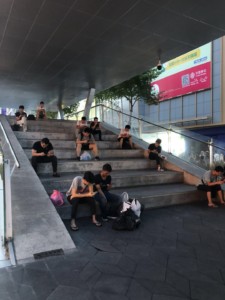 This over-utilization of smartphones seems already well aware in Chinese minds, as even in the subway station, symbols like the following one forbid people walking in the subway to pay attention to their surroundings.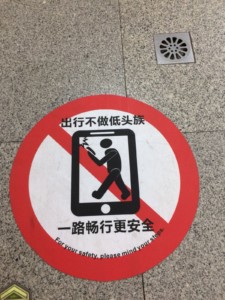 One stereotype about Chinese never ending working hours could not be more true than this photograph of police officer, falling asleep while standing.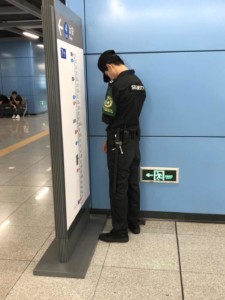 A myth that we would also have liked not to be true is the Chinese habit of spitting. Even though it happened to slip on someone's spit on the floor of the bathrooms, Chinese people take usually care of spitting inside a trash can.
Displacement & transportation means
While segways seemed to be much more common in China than in Switzerland, the main transportation means used in China were more or less the same as the Swiss ones, i.e. car, bus, subway, etc. Surprisingly, despite the fact that a usual day in South of China is 35 degrees Celsius, people do not fear to use bicycles to go to work. We hope that they are able to take a shower before actually starting to work. Here is a photograph of very smart wheels, than do not need air in a chamber to be ridden.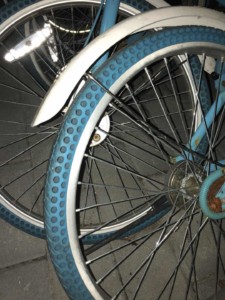 If you thought that the subway in Paris was over-crowded and difficult to use, believe us, it is nothing compared to the subway stations in Hong Kong. The following picture was taken at 8:30 am. The entire station was congested, without air conditioning. Closing our eyes, this station looked more like a Swedish sauna, with people wearing clothes.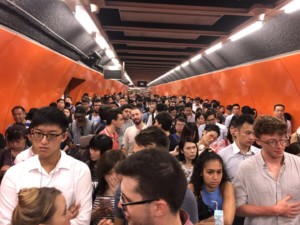 Another kind of taxi transportation was as interesting as dangerous to discover. As you can see in the following photograph, this taxi is nothing else than a scooter with an umbrella. The Friday evening, after the pitch at HAX accelerator, Simone & Marjane were blocked in the city center because of the subways, not circulating anymore after 11 pm. All of a sudden, heavy rainfalls began and everyone in the city rushed under protected areas and towards taxis. Therefore, this scooter taxi revealed itself to be very practical. Both places in the back stay of the scooter remain almost completely dry. We were not sure whether the driver had a valid license, though!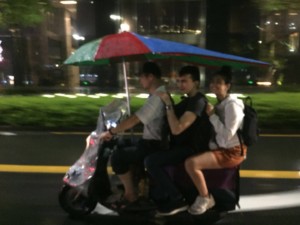 With respect to the safety, the relationship with police officers was felt much friendlier in China, than in Switzerland. In Shenzhen, by night, they could be easily recognized with the blinking red and blue LEDs. The order was, thus, not ensured by using fear. Likewise, in the subway of Hong Kong, television screens were showing police officers explaining, in manga animations, how people shall behave.
Surveillance cameras invaded most of the public spaces in China. A large number of roads were able to track the Chinese citizens with facial recognition. A flash could sometimes be seen in Shenzhen, scanning every car number plate, similarly to the flash used to notice drivers exceeding the road's maximal velocity.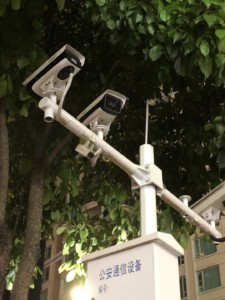 Another bizarre tool, of about 2 meters long, could be noticed in Chinese subway stations, as illustrated in the following photograph. You might wonder what this large piece of metal would be used for. Apparently, it is used by the security to push away people.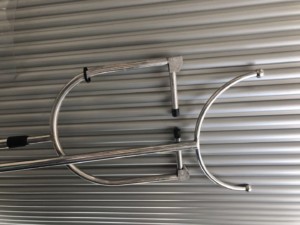 The choice of placement for the emergency exits also intrigued us, because they were usually at the bottom of the walls in the subway stations of Shenzhen. One might think that it is easier to see the emergency exits from far, when they are placed on higher positions. Could this choice be due to the fact that, in case of fire, people would all lie down on the floor and would not be able to see much in high positions due to smoke? Or could it be due to the over-utilization of smartphones, allowing to daily catch people's attention, staring at their phone while commuting from a subway to another?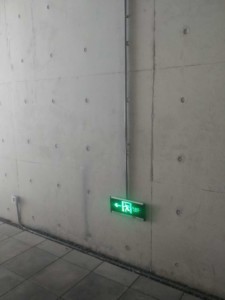 While Hong Kong seemed to care more about selective sorting of trash than Shenzhen, both cities presented both sonor and visual pollutions.
The most annoying sonor pollution was in Shenzhen, because of the Chinese people trying to catch the pedestrians' attention. Another stressful habit was that Chinese people riding bikes keep using the bell to alert that they are arriving, even if there is more than enough room for them to pass by. Soft music could be played to notify pedestrians, at Huaqiangbei (the Shenzhen electronic market), that the shops were closing.
One common point in both Hong Kong and Shenzhen was the visual pollution. Both cities present very high skyscrapers, with tons of lights, sometimes even working in phase with different buildings.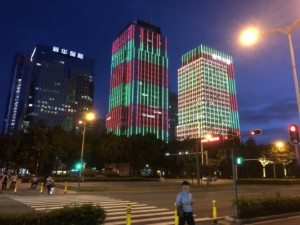 In Shenzhen, almost all the trees had a security to keep them stable, because the city has been built very recently. For this reason, the roots of the trees did not have time yet to grow.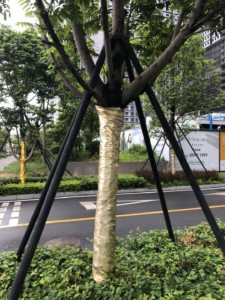 As WeChat users are used to scan and be scanned for any reason, even trees have their own QR codes.
To finish this blogpost, we decided to show here a compilation of fun facts during our journey in China.
Similarly to phone boxes, small karaoke cabins exist, in case people would have singing urges.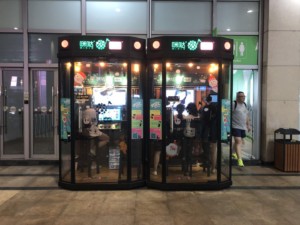 You might meet some really curious companions…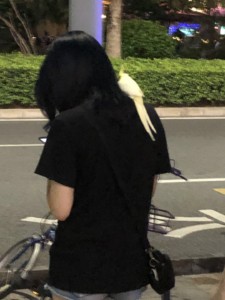 You never know when heavy rainfalls can happen, and some people get seriously prepared!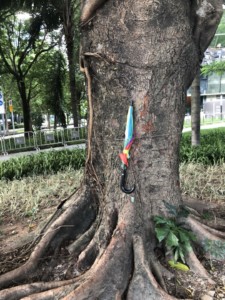 And as this Chinese grandma' taught us, make yourself comfortable to prepare a good meal.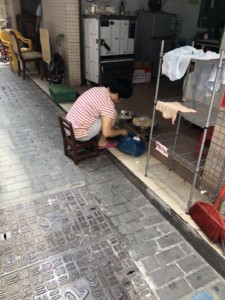 As you can see, this CHIC experience was not only incredible professionally, but also very rich culturally… and we will leave with so many more memories!
Thanks to all the people, making this opportunity real. We hope this article helped you understand better the differences just like we experienced them and we hope that it will open up your eyes to check out differences with Switzerland too! We really enjoyed acting like detectives in both cities and we learned a lot thanks to those observations.
Let's keep our eyes open!
By Amandine & Simone.