Hi everyone!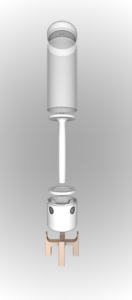 Yesterday we finally had our last Milestone presentation, before flying to China.
We also had the pleasure to pitch in front of two additional guests, Pierre, and Mehmed from Guido, who participated last year and happen to be there at Hepia for the presentation.
They also give us really valuable advice about our project!
During the last two weeks, a lot of work has been done:
The designers are still working on improving the design and the pieces with the engineers to find the best fit between the esthetics and fitting all the component in the lamps.
The engineers finished all their individual's parts, the WIFI connection, the LED PCB, and the main PCB. Everything is working separately, and now it's time to connect everything.
For the business side, I am still working on improving the storytelling and branding of the lamps, and prepare the rest for the trip.
We are super excited to go to China to finalize our lamps, and are looking forward to it!
Giulia
From NOX