It's Christmas!  The parcel containing the first order of electronic components arrived this week. The playground is open! We will stay close to you, to share the first issues.
While hardware is carefully tested and prepared, Bérénice – our user experience designer sketched some variations of how could the welcome page of the smartphone app look like. Below is an example of our favorite sketches.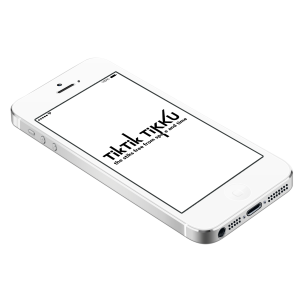 Sketching, designing and calculating add great value to our product, but what do our customers or professionals think of all this? We sort our ideas, business models and assumptions and go out to meet real people. Students of the HEMU in Lausanne, music store vendors and just some young people, wanting to learn more about our musical sticks… We were happy to get this opportunity to meet so passionated and open-minded people. And we were much more happy to bring back necessary information to take decision about Tikku's features.
To sum up the most important info after interviews:
we really need to find a way of imitating the impact on drums, by using for example the vibrations. People we told with were often worried about getting lost in a completely virtual space with any landmarks.
non-professional customers (no musicians) don't want to choose between Tikku sticks as a game or a playful way of learning music. They want both.
generally musicians are very conservative and do not want gadgets in their life, but surprisingly, drums are supporting very well digitalisation and market is full of electronic gadgets.
the assumptions we tested the first time with much younger customer segment (cost, space, noise), are confirmed by the new older segment.
Finally the week brought us many answers to the questions, and Svetlana could manage the merging and shaping of the business models, born after the brainstorming. One of the most interesting is a double-sided model, working the same way as playstation one. We would offer 2 value propositions to 2 customer segments at the same time.
The first customer segment represents our users. Their color is yellow. Our application may have a basic version, given for free with the sticks. Then the user is free to purchase app extensions in online stores to get more sophisticated games and activities – what will bring us recurrent revenues, apart sticks sales. To build these app extensions we have 2 options: work on them ourselves or outsource, by letting our API's open. So our second customer segment are the game developers, attracted by the user base we would offer them. Doing this has several advantages like a better visibility, a faster and varied development and an interesting revenue model.