As the project starts to materialize into PCB's, foam prototypes, software design and scripts our team is facing challenges and limits of the ideas we have imagined. The decisions must be taken carefully, especially in interdisciplinary activities. Everything is about compromise! The ideal goal is to achieve a perfect fit between the content and the form. On one hand, a good performance of the core engineering functions (the mobile app complexity and the sticks hardware filling) is crucial to reach the minimum viable product. On the other hand, people judge the appearance, and a good presentation can play a more important role for gaining good customer's opinion, that any other factor. Content and form are inseparable and business wants both!
In order to find the right combination of content and form, two strong tandems has been build: Ludovico/Bérénice and Adrian/Szabi. They are working on combining their knowledge and come up with beautiful prototypes of hard- and software. While creating these drafts, Svetlana collects info from interviews to adapt better Tikku to customer needs.
One major change occurred in value proposition. Jury's panel gave us a very interesting idea of a game that is actually very popular in Asia. Something similar exists for smartphone screens or for game consoles, but our variant will focus on virtual, social and musical aspects.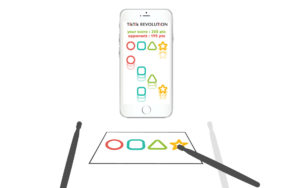 This is a new start! Stay tik… tik… tuned 🙂