Difficult to believe, that only one milestone is left before going to China! We are so excited to be there although few time is left now to finish the work on the project.
The engineering part is going pretty well, but let's talk a bit business.
Tikku is not isolated from its environment, so I had to make a market analysis and a second round of interviews to find our place among potential competitors.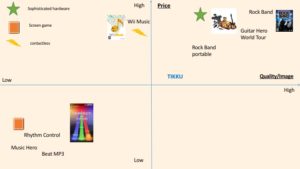 My research was done in the area of digital games. We can see a huge gap between expensive and sophisticated hardware (such as Guitar Hero and Rock Band) and very simple and cheap, often free, apps to play with the finger on the smartphone screen.
The idea is to place Tikku in the middle with a good quality and lower price, than game consoles. The main advantage we could have is the portability of the sticks connected to phone. In this way people can get out of the screen and play REALLY anywhere.
Stay with us! 🙂