One of the biggest parts of the work for the second milestone was the design of the sticks performed by Adrian. He has been working on colors and shapes according to the engineering requirements of the PCB and other electrical components.
The stick is a puzzle constituted of 3 main layers. The internal layer, containing all the electronic filling and the PCB will hold inside the plastic body of the stick. This body will be probably made of ABS plastic, as it is resistant and well adapted to a toy. Finally, the external layer of the stick will be done of rubber. It will assume three roles at the same time: protect the stick from shocks, hide the USB hole and help to differentiate the sticks in group sessions.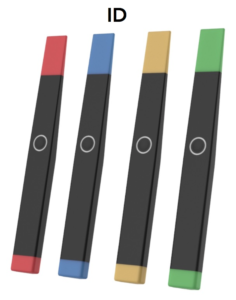 Red, green, yellow and blue are the colors for the rubber part. Why have we done this choice?
These are already associated in people's minds as colors of the digital game… Remember the colors of the symbols on xbox, playstation etc joysticks'?
The surface of the stick will be smooth. Only 2 buttons will allow to control it: one for switching the stick on and off situated at the bottom of the stick, and one on the front side, circled by a LED to calibrate the stick at the beginning of the session.
The last components order has been done and we are impatient to receive it and test everything! I will keep you updated! Stay tuned! :):):)