After some intense days in Hong Kong, pitching in front of investors and makers and visiting the HKUST, the Harbour, Panalpina and the Science Park, we finally arrived to Shenzhen, where our Tikku sticks will be manufactured.
The Seeedstudio manufacture looks impressive: offices, machines and piles of fresh baked PCBs. It is time now to join the professionals and assemble our own device!
Unfortunately, not all the components arrived for our order, then tomorrow the task will be to go to the electronics market, to fulfil the missing components. Then, the work on hardware will start.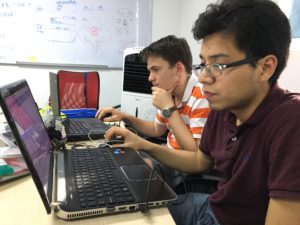 For the moment Israel and Szabi are working on the sensors's calibration with the draft PCB they brought from Switzerland.
Adrian is finalizing the 3D renderings, so we can submit the shape to Seeedstudio and decide whether it can be produced there or should be outsourced.
Ludovico started actually to work on a key function of Tikku: the implementation of the multiplayer game option into the software.
Bérénice is preparing the landing page for the website and I am working on the questions I could ask locals during my survey session in the stores of Shenzhen.
Look forward for next days! 🙂