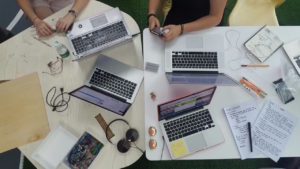 This trip comes to its end! But even the day before leaving China, there is always time to work! So today, the whole team together, we went to the new new offices of Seeed Studio (you read right, there are 2 new, because in fact we have discovered another of Seeed's new offices). This was the final sprint! We all have worked together in order to (try to) have something functioning by the end of the day!
I, personally, have been writing articles and helping around when I could.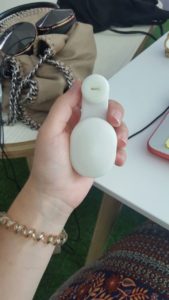 I also have had an interview with a journalist from CCTV, in which I talked about the CHIC experience from a business student perspective. Lara put our website online and has had an interview for the television! Alexis and JB filed and sanded our 3D prototype in order to be able to fit all the pieces together (we will need a few adjustments for the steel 3D printing). Sorina has been working on making the electronics parts work and Link on the software.
So basically today is assembling the prototype together, trying to fit all the components inside and making for the basic functions (and dealing with all the unexpected issues coming into the process!). For now, the LEDs are working, everything fits in, the pairing is working, the main software applications are working (the opening of the lock with the phone in your pocket, the sharing of the keys), we are still having some issues with the motor (but nothing that our engineers can't fix!). And right now, Sorina and JB are soldering everything once and for all in the 3D printed plastic prototype! (Yay!)
I've been taking a lot of pictures today, here are some of them here:
This is the end of the trip, but of course not of the Aimo adventure! I'll keep you informed of our advances and I'm sure we'll have a completely functioning prototype to show you very soon!
Also, don't forget to visit our Tumblr and our website for more pictures and information about Aimo!