Hello everyone! First of all, sorry for not posting in the last few days (I know you missed us), but we have been very busy!
So, since last Thursday what happened? On Friday it was supposed to be our last day to work on the prototype, but fortunately we have been able to work a little bit more on it!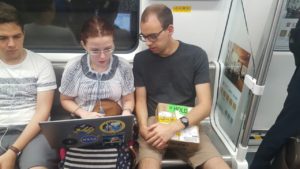 Link, Lara, Sorina and myself (Sara) went to Seeed last Friday where we worked on several things. Lara worked mainly on the user interaction video (which is not finished yet, I'll let you know as soon as it is!) and kept working on the LEDs for the prototype. Link and Sorina put the firmware inside the PCB (basically, for those like me who don't understand much about engineer stuff, it is when we put the beautiful code that Link wrote inside the PCB and therefore Aimo, so that you can use your mobile app and interact with your Aimo. Does that make sense? I hope so). Link also kept on working on the app while Sorina managed to build 3 workable PCBs (YAY!). On my side, I was running around the whole day helping everyone.
Alexis and JB stayed at the hotel to work on the design of Aimo. JB also made some renders of deposit boxes in real life environments!
Then, I came back to the hotel, because we had an interesting appointment with Alexis and JB. Let me tell you more about that. So you remember the other night when we pitched in front of Chinese makers? Well, there was a girl in the audience that knew a guy, which wasn't there. And it turns out that this guy, Carl, is a Canadian entrepreneur who has been living in China for a few years now and works in a maker space in the electronics market, the one we went to the other day. He heard about our product and wanted to talk to us about an eventual partnership because he is also working on a lock! His lock is for Chinese house doors but he thought about putting together, as another product, his lock with our electronics and software to make another lock! That was really interesting and we are keeping in touch with him to see what is going to happen! That's the beauty of China, you never know who you're going to meet and what new opportunities might come to you.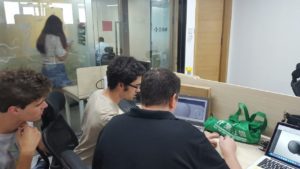 At the end of the day, we started the humanitarian hackathon as well! But before we were able to start, we had some adventures… We were supposed to meet everyone at 4:15 at a subway station, but with Alexis and JB we were late because of our meeting so we had to find the hackathon building by ourselves. Let me just tell you: that was not easy! It was supposed to take us 20 minutes and we ended up walking in the burning sun for 1 hour!!!!! But fortunately, we found it! If you want to know more about the humanitarian hackathon, which was proposed by the ICRC, I suggest you to read the post on the CHIC blog!
On Saturday, we spend the whole day at the hackathon and on Sunday, miracle, we had a day off!!!!! So most of us started by sleeping a little bit and then we did different activities such as visiting markets, visiting parks representing cities of the world, and just walking around! That was a good day!
And on Monday and Tuesday we had different visits (for which you can find the detail on the common blog as well).
Here are a few pictures of the activities from Saturday to yesterday:
I will update you soon on our last day of work on the prototype!